Dr. Michael Jacobsen
Dr. Michael Jacobsen is an orthodontist in Victorville who strives to provide outstanding treatment with exceptional customer service. He treats patients of all ages, and his services range from interceptive treatment for children to comprehensive care for adolescents and adults. Each patient's diagnosis and treatment plan are developed and customized for that individual.
Dr. Jacobsen received his education in the following areas:
Loma Linda University School of Dentistry in California; dental degree
Jerry Pettis Veterans Hospital; general practice dental residency
Loma Linda University; Certificate in Orthodontics, master's degree
Following graduation from LLU, Dr. Jacobsen and his wife, Gay, moved to the Victor Valley to start his practice in orthodontics in 1984.
Professionally, Dr. Jacobsen is a member of:
The American Association of Orthodontics
Pacific Coast Society of Orthodontists
California Association of Orthodontists
American Dental Association
California Dental Association
The Tri-County Dental Association
He is also past president of the Orthodontic Alumni Association of Loma Linda University School of Dentistry.
The Jacobsens have two children—a daughter and son. In addition to his family involvement, Dr. Jacobsen has been active for years in many youth and church activities in the community. In his leisure time, Dr. Jacobsen enjoys water and snow skiing, hiking, and the beach.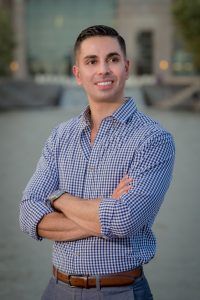 Dr. Imad (Eddie) Maleeh DDS MS
ABO Board Certified

Dr. Maleeh is an Apple Valley, California, native who has lived in or near some of the greatest cities in the country (Los Angeles, San Francisco, New York). His pursuit for higher education in the field of orthodontics has allowed him to diversify his cultural, ethical and professional backgrounds as well as bestowed upon him an ever-lasting genial and empathic attitude towards his patients. Dr. Maleeh graduated valedictorian of Apple Valley High School, magna cum laude at the University of California, Berkeley, and #1 in his dental class at the Ivy League institution of Columbia University. He completed his orthodontic training as Chief Resident also at Columbia University. He is a Board Certified Orthodontist, recognized by the American Board of Orthodontics (ABO); "a commitment to the highest level of patient care including a comprehensive treatment approach to ensure quality work." The ABO estimates that only 33% of all orthodontists are Board Certified and Dr. Maleeh is included within that prestigious class. Moreover, he is both Invisalign® and Tweed Certified, which requires advanced courses in orthodontic mechanics. He is a proud member of the American Association of Orthodontics. His research interests include the biological processes involved in tooth movement. He contributed the first chapter in the 2016 textbook Biology of Orthodontic Tooth Movement: Current Concepts and Applications in Orthodontic Practice. Having treated 100s of cases, he is well-versed in all aspects of orthodontics, ranging from interceptive treatment for children to comprehensive care for adolescents and adults. His hobbies include physical fitness/exercise, traveling, reading, and spending time with friends and family. Dr. Maleeh is a hometown boy returning to serve his long cherished High Desert Community!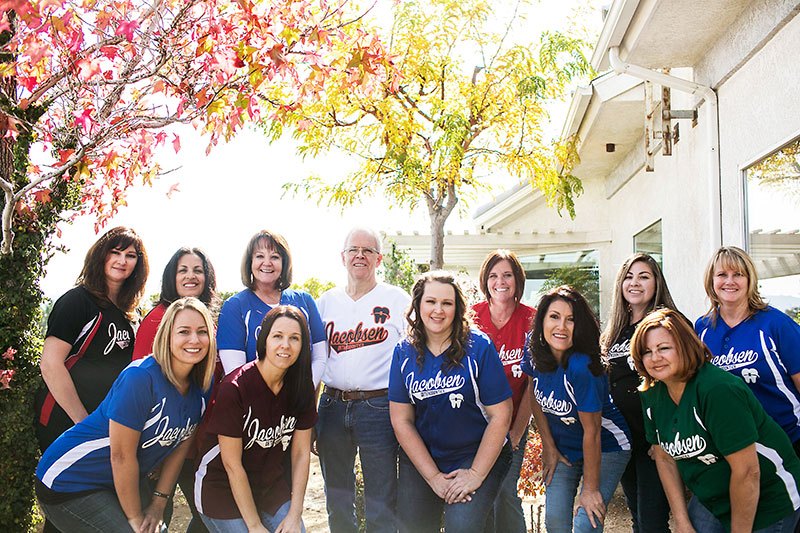 Meet Our Team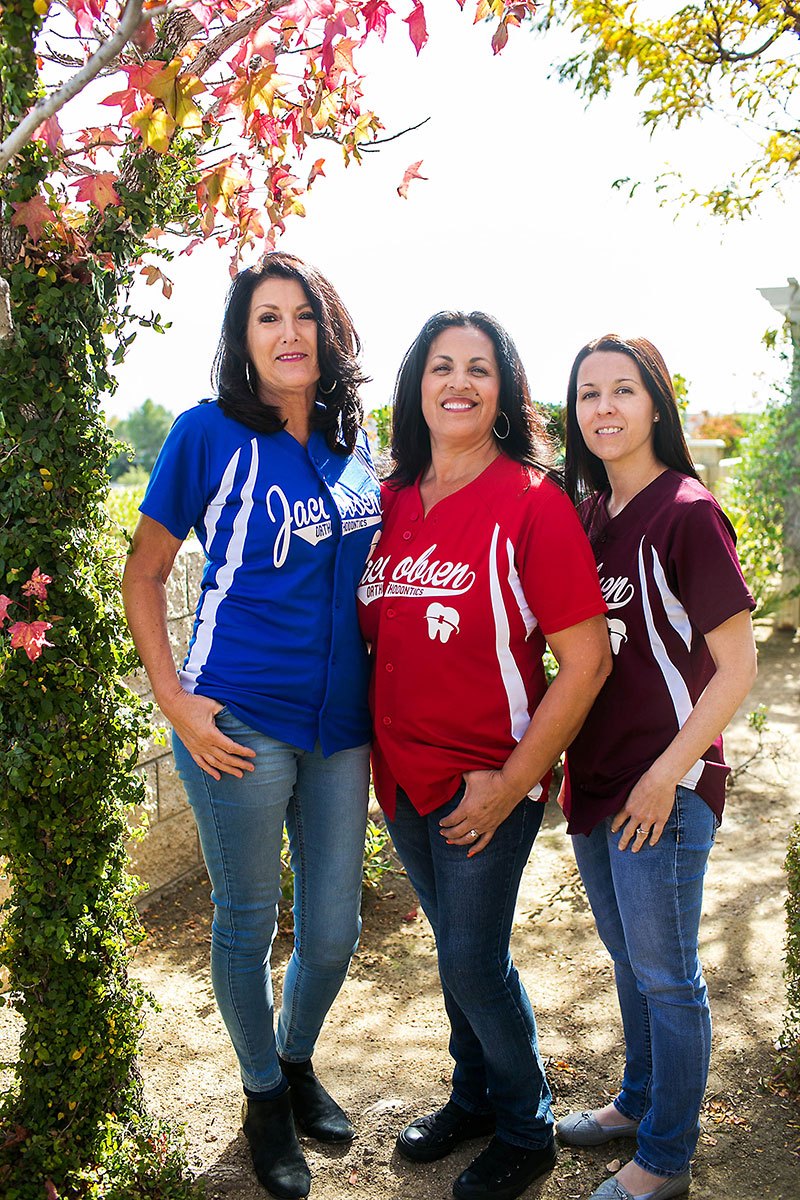 Administrative Team
Our team of front office personnel are experienced in customer service, scheduling and insurance administration. They have the common goal of providing excellence to each person who enters our practice. We truly believe we provide a higher standard of care and service.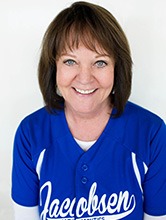 "I love helping patients get started in orthodontics and seeing our outstanding results."
Sherry – Treatment Coordinator
Sherry is our Treatment Coordinator and has been a member of our team for over 30 years.
She assists Dr. Jacobsen during your first visit to our office to help get you started on the road to your smile transformation! She prides herself in her commitment to personalized care and endeavors to make both our patient's experience and treatment exceptional. Sherry enjoys spending time with family and friends, boating, bicycling, movies and reading.
---
"I love seeing our patients before they start treatment and after, when they leave our office with a beautiful smile."
Sophie – Financial Coordinator
Sophie is our Financial Coordinator. She has worked in orthodontics for over 40 years. Sophie is eager to help each patient have a pleasant orthodontic experience from start to finish. Sophie enjoys cake decorating, outdoor activities, reading, scrapbooking and rooting for the L.A. Dodgers and San Francisco 49's.
---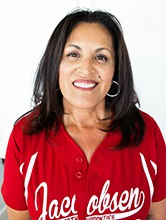 "I enjoy being part of a team that puts bright, happy smiles on faces daily."
Lela – Scheduling Coordinator
Lela is our Scheduling Coordinator. Her experience in the orthodontic field of over 30 years has equipped her to cheerfully and expertly handle the needs of our patients. Her days off are spent enjoying the beautiful California sunshine with her family and friends
---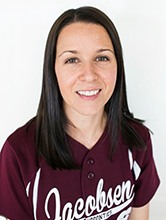 "I love helping patients get started with treatment. Insurance concerns are my specialty. I am here to help you along this wonderful journey to a beautiful smile."
Mindy – Insurace Coordinator
Mindy is our Insurance Coordinator. She has worked in the dental field since 1996. When not attending to the needs of our amazing patients, she keeps busy with her family.
---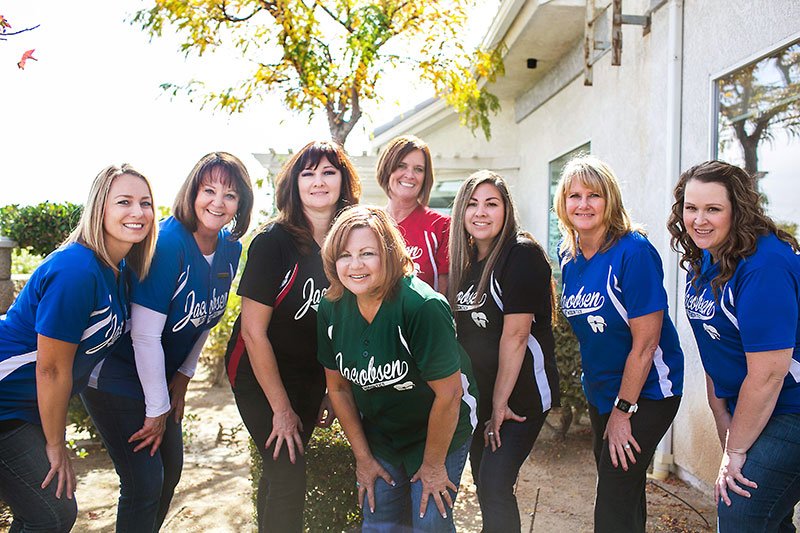 Clinical Team
Our team of clinical assistants are registered dental assistants certified by the state of California. They are highly trained and skilled in delivering the highest quality clinical care possible. Every team member is dedicated to providing a healthy and beautiful looking smile along with a fun, professional and highly personal orthodontic experience. They work closely with Dr. Jacobsen to make sure your treatment is a huge success. You won't find a more caring, knowledgeable and fun clinical team! Their skill are the reason our patients finish their treatments with such astonishingly beautiful smiles.
"The most important part of my job is getting to know patients, helping them to improve their smile and knowing that I made a positive impact in their life."
Mary – Clinical Coordinator
Mary, our clinical coordinator, has been in clinical orthodontics and dentistry for over 38 years, therefore, she is experienced with all aspects of clinical orthodontics and dentistry. Her goal is to make everyone as comfortable as possible. Mary loves to have fun with our patients and sees the humor in everything. When not in the office, she enjoys spending time with her husband and daughter. Mary loves music, NASCAR and swimming.
---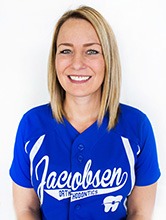 "I love working in a practice where all the team members work closely together to achieve the same results for every patient."
Tami
Tami joined our team in April 2013. She has worked in orthodontics for over 15 years. Tami enjoys getting to know our patients. She loves seeing their smiles improve with each and every visit. Tami is happily married with two wonderful children. She loves hanging out with family and friends, camping, swimming, and any other outdoor activity.
---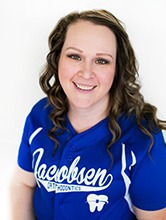 "I love getting to know each one of our patients. I love seeing their smiles improve with each visit."
Shannon – RDA
Shannon has worked in orthodontics for over 14 years. She loves working in orthodontics. She enjoys being part of a team that makes great smiles! Shannon is committed to making our patients feel good about themselves as they go through treatment. Shannon enjoys time with her family.
---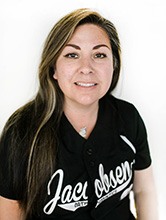 "I love seeing our patients that have always wanted to change their smile finally have the opportunity to do that. It's amazing to see a person who never wanted to smile start to smile all the time!"
Veronica – RDA
Veronica joined Jacobsen Orthodontics in 2004. She had worked in dentistry 10 years previous. Veronica loves watching how much a patient's confidence grows as they progress through treatment. In her spare time she enjoys her four boys and husband of 21 years. During football season (her favorite time of year) you can find her watching RAIDER games.
---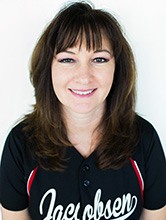 "It's great to work every day in an environment where the patients and staff are wonderful. It feels great to see how happy patients are."
LeaAnn – RDA
LeaAnn has been an orthodontic assistant with Dr. Jacobsen since 2006. She loves connecting on a personal level with each of our patients. LeaAnn enjoys watching patients gain more confidence in their smile. She finds each patient is an interesting person and learning about them makes each day different and exciting. LeaAnn enjoys her family and friends when not at work.
---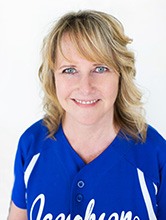 "I am so blessed to have a job that I truly love! I love the relationships we build with our patients."
Cindy – RDA
Cindy has worked with Dr. Jacobsen "forever." She was with him when he first got out of school. She has loved the dental field since starting work at the age of 15. She is passionate about teeth and award winning smiles. Cindy enjoys seeing the transformation of each patient throughout treatment. She spends time with her two daughters whenever possible. Cindy likes scrapbooking and watching basketball.
---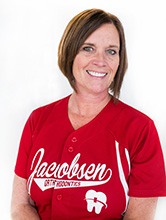 "The most rewarding part of my job is knowing I help to provide a great environment for patients and their family members to receive the best care from the best people!"
Kathy – Record Coordinator
Kathy has been at our office since 1999. She is our Record Coordinator. She is well trained in radiology, photography and Itero scanner technology. Kathy brings with her a great attitude and sense of humor enjoyed by patients and team members alike. What she enjoys most about her job are the great people she works with, a beautiful office to work in, and the smiling faces of all our patients. Outside of the office, Kathy loves hanging out with family and friends, gardening and riding a Harley with her husband of 34 years.
---
Laboratory and Clerical
"I find it rewarding when our patients receive the beautiful smiles they deserve."
Kara
Kara has worked in our office since 2010. She was a former patient as a child and never left. Kara is a people oriented person and enjoys seeing the "magic" that takes place in a person both physically and emotionally due to orthodontics. She loves being with family and friends.